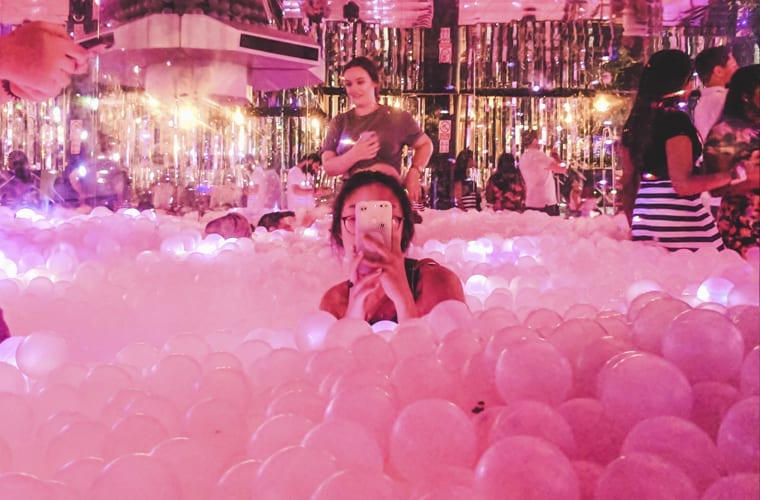 5 Instagrammable UK venues to take inspiration from
2 YEARS AGO
Creating a social buzz around your bar has become a major element of many a venue's marketing plan, as more and more trendy bars and eateries seek to attract their clientele via social media.
From quirky and unique lighting and mirrors to weird and wonderful activities, creating an Insta-worthy space where people will be queuing up to take a few selfies is a sure-fire way to boost sales and get your reservations line ringing. Let's take a look at a few of the UK's leading Instagrammable venues for a little inspiration…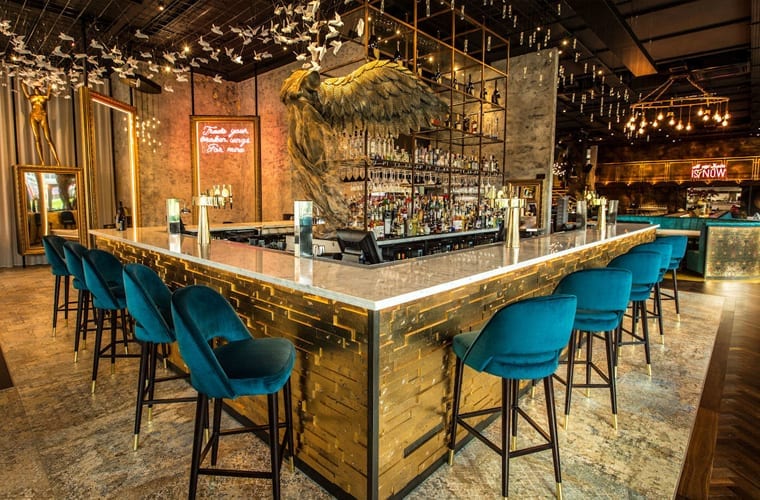 Menagerie – Manchester
Perhaps one of the country's most on-trend bars right now, Menagerie is famed for its regular calendar of acts who perform on a central stage and wow visitors every weekend. But what makes this particular bar so popular with the social generation is the wide array of snap-worthy features scattered throughout.
With neon lighting and antique mirrors the focal point, Menagerie uses the illuminated slogan 'trade your broken wings for mine' as a central feature of its décor. This phrase has become a popular Google search term thanks to the venue.
There's also a vintage-style bathtub filled with plastic balls which guests are actively encouraged to climb into during their visit. Many patrons take up this offer and Instagram is heaving with the photographic documentation of this sensory experience.
Not only does the fun photo act as a great visual memento of a visit, it has also helped the venue spread the word far and wide, with guests sharing images across social media making Menagerie a hot commodity for the cool crowd who want to be seen in all the right spots.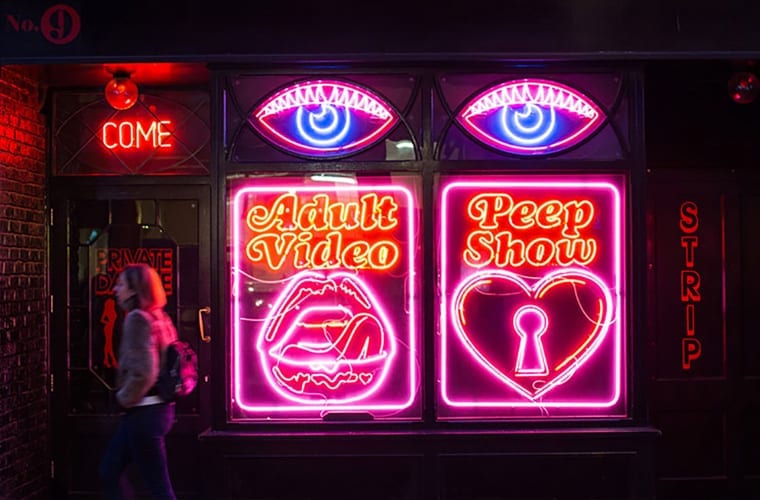 La Bodega Negra – Soho, London
Neon lighting makes another appearance at this popular Mexican restaurant with a twist. La Bodega Negra in London's buzzing Soho district has waved goodbye to the stereotypical sombrero hats and checked table coverings in favour of quirky neon peep show signage to illuminate the restaurant frontage. This clever approach works well with Soho's adult entertainment centre heritage.
Inside, you'll find a tempting array of premium tequilas, a sumptuous menu of Mexican delights and a lively atmosphere with mariachi bands and events, but it is the frontage that really pulls in the crowds, many of whom often stop to upload a few pics to social media before heading inside.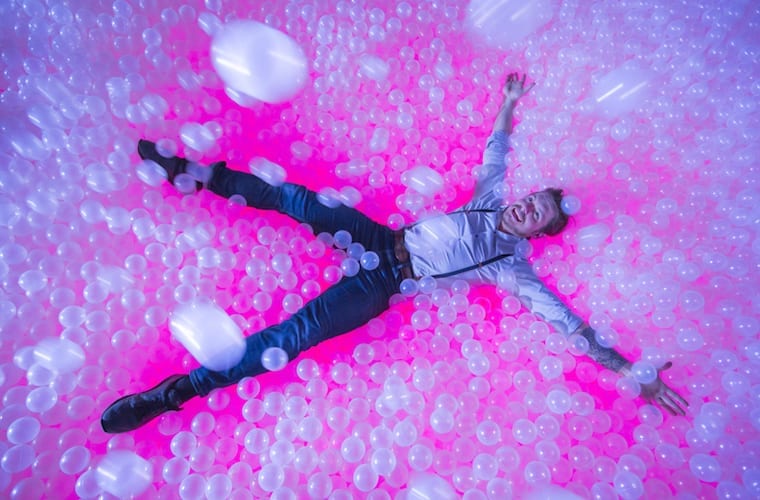 Ballie Ballerson – Shoreditch, London
Giving visitors the chance to take a step back to childhood while enjoying some of the benefits of being over 18 years of age, Ballie Ballerson is a dream destination if you've ever looked at a ball pit with envy.
Featuring a footprint of over 5000 square metres, three colourful ball pits including a VIP section filled with golden plastic balls, a pumping sound system and a vast range of cocktails which can be enjoyed in the pits, visitors to this activity-based venue are also treated to sounds spun by some of London's best DJs while sipping on a cocktail with friends.
A real draw for groups looking for a destination offers more than just drinks and dancing, Ballie Ballerson has attracted thousands of visitors thanks to guests sharing images of their experience on social media. It has since become one of London's most popular nightspots and attracts young at heart visitors from all over the globe.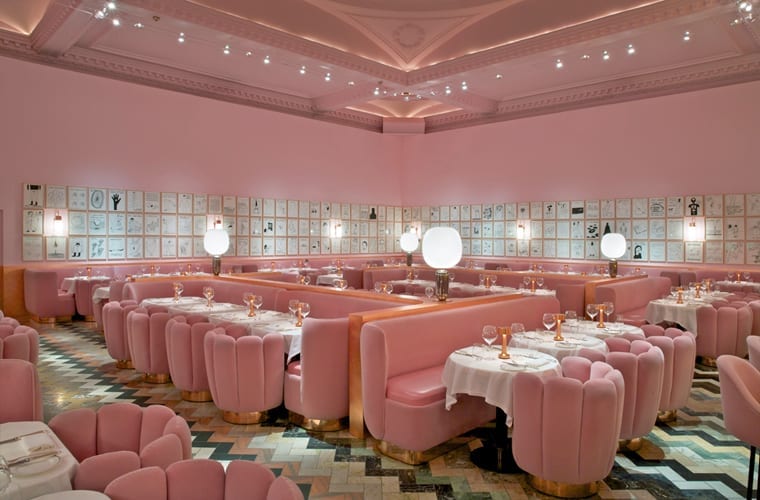 Sketch – Mayfair, London
Combining modern art with food, cocktails and live music, Sketch is a unique experience spread over five individual areas, each of which offers something completely different. From enchanted forest afternoon tea experiences and 1930s style luxury dining awash with pink velvet to contemporary egg-shaped restroom facilities, this venue is an Instagram addict's dream!
In every corner of Sketch, you'll find something worth uploading to your social media feed and with such a fusion of rooms to explore, those looking for a completely different dining or drinking experience are having to book way in advance to even cross the threshold of this popular London venue.
Created with a focus on the arts, visitors clamour for a table thanks to the visually attractive and unique décor. It's certainly worth charging your smartphone up in advance if you're lucky enough to bag yourself a table at Sketch in the near future.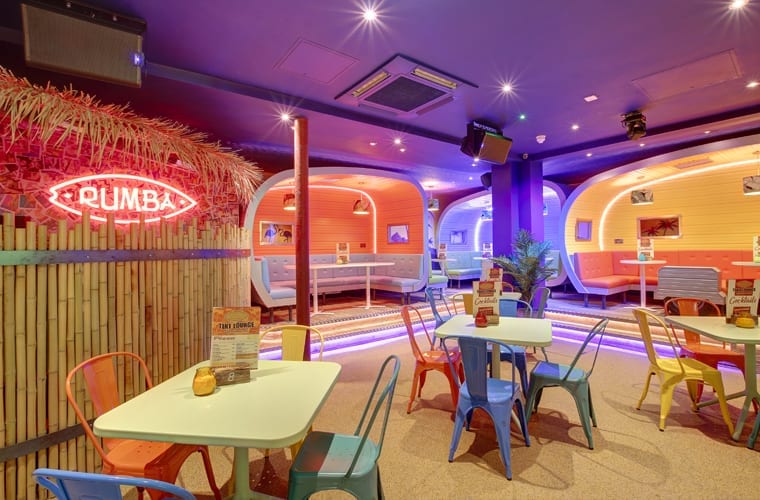 Rumba – Congleton
Step inside Rumba in Congleton, and you'll be transported to a land of white sandy beaches, tropical landscapes and carefree island living without having to leave the UK.
Hidden around every corner, you'll discover a weird and wonderful photo opportunity, with life-sized shark models hanging from the ceiling and uber-cool neon lighting which gives the space a glow while being visually engaging at the same time.
Moving away from the standard themed restaurant approach, Rumba is a real eclectic mix of tiki bar chic and chilled South Pacific style, and as a previous Dawnvale client, we are exceptionally proud to have created such a unique and colourful space.
With a brief to offer a creative way to delight customers, Dawnvale worked with Rumba to create seating booths within caravans, sandcastle drinking glasses for cocktails as well as colourful oil drum tables to prove that creating an Instagram sensation doesn't mean you need to fill your venue full of expensive art or plastic balls.
Functional, practical, but above all highly visual and fun, Rumba has enjoyed plenty of referrals from previous guests who have uploaded images of their visit to social media. With a little help and expert advice from Dawnvale, any bar or restaurant can attract new customers to their business via social media.