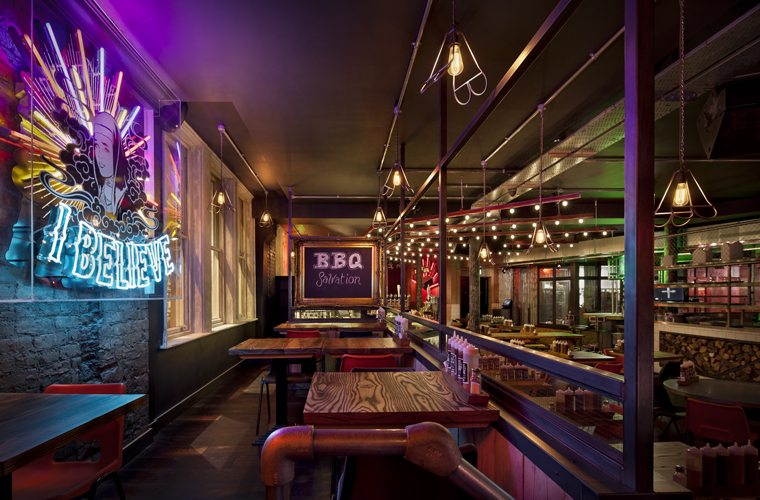 5 restaurant design trends to look out for in 2018
5 YEARS AGO
They say that if you wait long enough, every trend will come back around. 2018 looks to be no exception to this rule and we predict that the next 12 months will usher in more than a few familiar trends.
Read on to find out how you can stay one step ahead in the interior style stakes with our guide to five restaurant design trends to look out for…
Vintage
Vintage never seems to go completely out of fashion but we predict that retro will have a big style moment in 2018. Eternally chic, this is one trend that is eminently adaptable – whether you're planning a 50's style American diner or a sumptuous 1920's theme bar. Expect to see vintage fabrics such as decadent velvet, pretty china tea cups and miles of retro neon sitting side-by-side with more contemporary accents.
Rural
2017 has seen the clean eating, organic and vegan food movements soaring and off the back of that, we expect rustic, rural and country-estate inspired themes to rule. Think farmhouse style tables, plenty of wood, leathers and sheepskin but with a modern twist. Stone and marble will also intersect with this trend, adding an opulent, textual component that still retains its natural roots.
Sustainability
Sitting nicely with the vintage and rural trends, sustainability will also be key to restaurant design in 2018. As we all become more aware of environmental issues and sustainability becomes part and parcel of day-to-day living, this will be reflected in restaurant design too. Upcycling of older pieces give a nod to the vintage style but we also expect to see more prominent use of natural materials such as reclaimed wood and bare bricks.
Minimalism
There's always been a strong argument for less is more when it comes to restaurant design and, 2018 will see this statement stand strong. Clean lines, crisp colour palettes and an uncluttered feel, with elegant interiors and minimalist furniture will help your restaurant exude a timeless feel, meaning it won't feel dated as other trends come and go.
Lighting
Lighting design is always a crucial factor in any restaurant design process and, 2018 will see it follow the recurring natural, minimal and sleek aesthetic seen elsewhere in restaurant interiors. Recessed lighting, an abundance of natural light, picture windows and sleek fixtures should be incorporated where possible.
The great thing about this move towards more discrete lighting is that the look is so flexible and adaptable. This means it's easy to stay on trend and create a welcoming ambience in keeping with any of the above interior vibes.