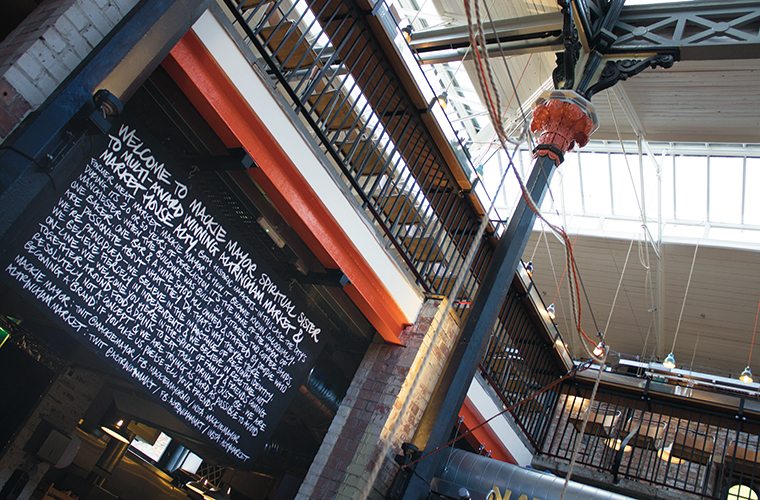 Dawnvale helps new Manchester artisan market Mackie Mayor raise the bar
2 YEARS AGO
The bar and restaurant design installation experts, Dawnvale have helped launch a vibrant new artisan food market in Manchester after completing an extensive fit-out project including kitchen design, bespoke ventilation systems and specialist odour control at Mackie Mayor, a luxurious new dining destination with a difference in a beautiful renovated building.
A grade II listed building and former meat market turned high-end food destination housing a host of independent vendors in a beautiful glass-roofed, restored treasure, Mackie Mayor is the grown-up offspring of Altrincham Market.
Dawnvale, which works alongside some of the UK's leading bar and restaurant operators in the UK to create award-winning venues, was commissioned by Market Operations Director Nick Johnson as part of the multi-million pound refurbishment. It fitted-out seven of the artisanal food stalls with specialist kitchen equipment and general wash up, cold rooms and storage facilities, in addition to the venue-wide ventilation and odour control systems.
Dawnvale began work on the building, which dates back to 1858 and sits on the edge of Manchester's Northern Quarter, in January. The team worked initially on the complete ventilation system and odour control and extraction solutions before rolling out the kitchen fit-out as other work on the site progressed. The huge space, which can now accommodate around 500 people, retained many of its original features through the renovation.
Dawnvale's Craig Whitworth worked closely with the Altrincham Market and Mackie Mayor teams during the almost year-long project. "We started work in January and finished almost 10 months later, linking in with other trades as the development got underway.
"Given the size and scope of the refurbishment, and the fact that we were working on a listed building, this was a challenging, yet very rewarding project. As part of our commission, we fitted out individual operations kitchens and general areas such as wash and glass wash, cold room and dry goods across multiple food stalls. We also supplied and designed full extraction and odour control systems along with bespoke bullnose distressed counter tops.
There were delays and challenges as you'd expert on a project of this nature but the final overall result is fantastic and a massive boost for Manchester."
For more information about Dawnvale Group, please visit: http://www.dawnvale.com  or call 0161 684 7879. To find out more about Mackie Mayor, please visit: http://www.mackiemayor.co.uk.
Contact
Dakota Digital for Dawnvale
Press contact: Rebecca Appleton
Email: rebecca@dakotadigital.co.uk
Tel: 01623 428996