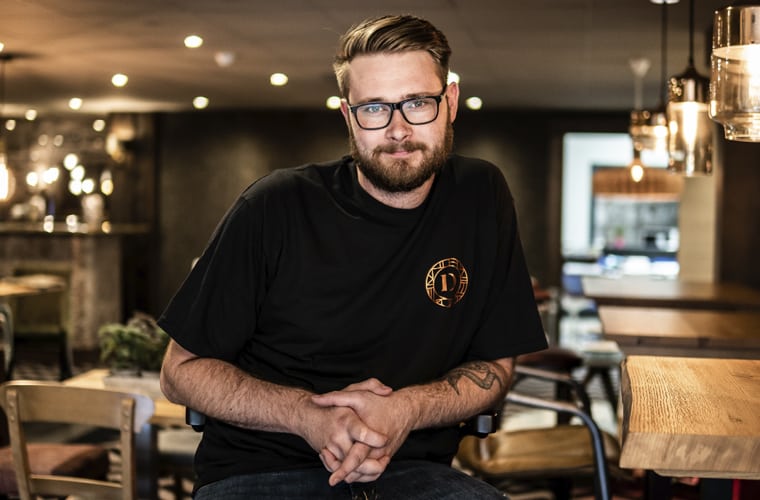 From work experience to project manager: Q&A with Steve Barlow
4 YEARS AGO
We're delighted to introduce another member of the Dawnvale team to the blog this month – Steve Barlow. Steve is a new Project Manager but has already worked in a range of roles at Dawnvale, having first come to us as a 16-year-old on work experience a decade ago.
As project manager, Steve will be working closely with our clients. We sat down with Steve for a quick interview to find out more about his role with us and what a typical day looks like for a project manager in the bar and restaurant design industry.
Q: Hi Steve, what first drew you to the world of project management for restaurants and bars?
I did my work experience placement here at Dawnvale while I was school. I was 16 at the time and I enjoyed being hands on. I remember that I went out on site with the team fixing catering equipment – as soon as I left school I applied for an apprenticeship through Dawnvale and went to college one day a week studying engineering.
From starting as an apprentice, to a service engineer to now being a trainee project manager it's fair to say my role has changed massively over the years. It's such a positive that Dawnvale has enabled this progression.
Q: What's a typical day at Dawnvale like for you?
Every day is vastly different. I spent a day on site recently for example where I had to go down into really small cellars to check structural works – that was a first for me and because I'm 6'7 I didn't even need a ladder! Other days might involve managing engineers or working on upcoming projects. It's also very varied and no two days are ever exactly alike.
Q: As a project manager what tips do you have for how to plan your time?
First and foremost, make a list and then stick to that list as much as possible. Being organised is also vital – this becomes a habit but it's a hard one to learn at first!
Q: Do you have a schedule that you have to work to?
We have just introduced a new system called Smartsheet - I have found this really beneficial as it helps me to manage my projects from start to finish.
Q: As we know Dawnvale is very busy, how long do you have to plan ahead?
As far as possible as I can! There are always multiple projects at different stages of development to be juggled so getting things done a far in advance as possible helps to keep things running smoothly.
Q: Is there anything you've really loved working on or anything you've thought that's cool, that's different?
We recently fitted a new bar in Manchester United's Red Café. Even though I am an Oldham Fan, I still really enjoyed this project! I did find it quite challenging in parts - as Manchester United is a big organisation I was keen to make sure everything ran really smoothly.
Q: You started as an apprentice with us - how did you end up becoming a project manager?
I really did start at the very beginning – I've been known to clean a few floors in the office! I performed a range of tasks and was always really busy. I learnt from many of the people around me at Dawnvale - because there is so many people with a great store of knowledge I realised from a young age if I took a little bit of that knowledge from everyone, I would go far.
Q: Can you describe working for Dawnvale in a couple of words?
Big team. Everyone is helpful. Diverse.
Q: If you're working from 7am, how do you manage to destress?
I don't really get stressed to be honest.
Q: Out of all the Dawnvale jobs you've had a hand in, which one has been your favourite and why?
It was definitely the Manchester United job. Since I am a trainee project manager this was the first job I felt like I ran mostly on my own and asked very few questions to the other project managers.