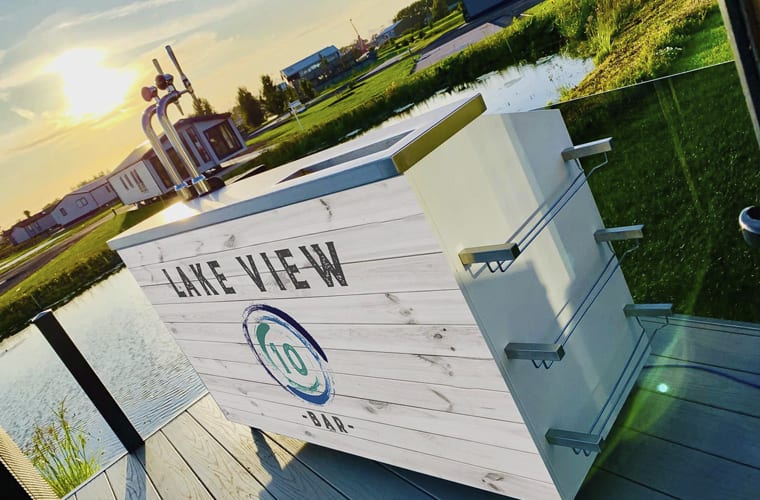 Helping businesses increase outdoor revenue this summer with branded mobile bars
4 YEARS AGO
This summer has been a bit of a scorcher, and with temperatures rising, Dawnvale has been assisting an array of clients to cash in on the excellent weather by creating a series of branded mobile bars.
With 28 units leaving the warehouse so far, mobile bars have soared in popularity over recent years as a way to reduce customer waiting times for drinks, lessen the burden on bar staff at peak times and also create a second bar with the ability to offer cocktails, draught beer, wines, long drinks and more. They are the perfect addition to bars or venues with an outdoor space, special events or exterior events such as food festivals filling up the calendar.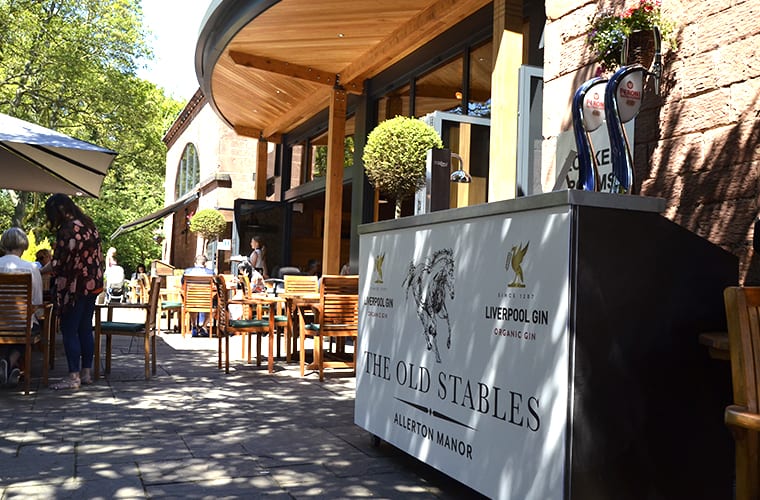 Perhaps more importantly, mobile bars are a money spinner
Our client Allerton Manor recently reported that the 2 mobile bars purchased had paid for themselves in the first weekend. This fantastic feedback really does go to show that a mobile bar makes for a very smart investment for anyone looking to boost their bottom line and create a second bar offering for their premises without having to call in the builders or start looking for much bigger premises. Peroni is another great example – we work with them on a specially created series of designs championing their brand and helping to increase sales of their bottled and draft beers.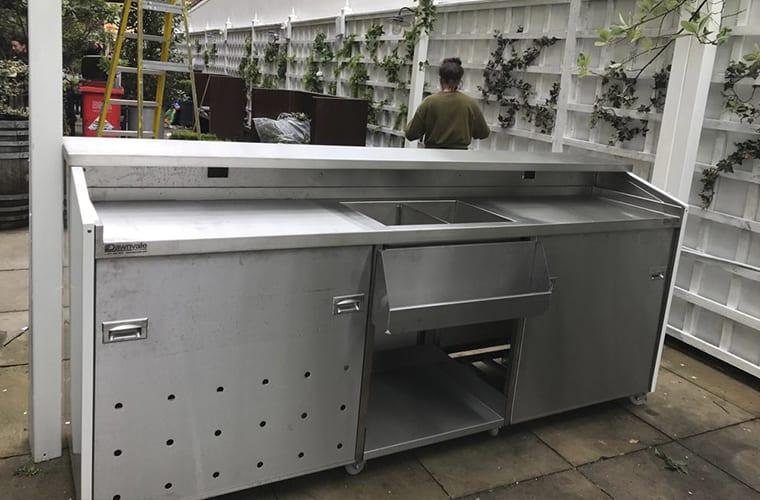 Bespoke convenience built in
What makes these units so popular with customers in the bar and restaurant industry is that they come in a variety of sizes ranging from one to three metres. They can also be fully branded to make them a seamless extension of the main space and have a weather cover should the weather change unexpectedly – something not uncommon during the Great British summer!
Mobile bars come complete with a full range of essential equipment such as draft dispense, insulated ice wells, speed rails and keg storage. Mobile bars a great choice for bar patios, beer gardens, terraces weddings and gala dinners where the number of guests surpasses interior capacity.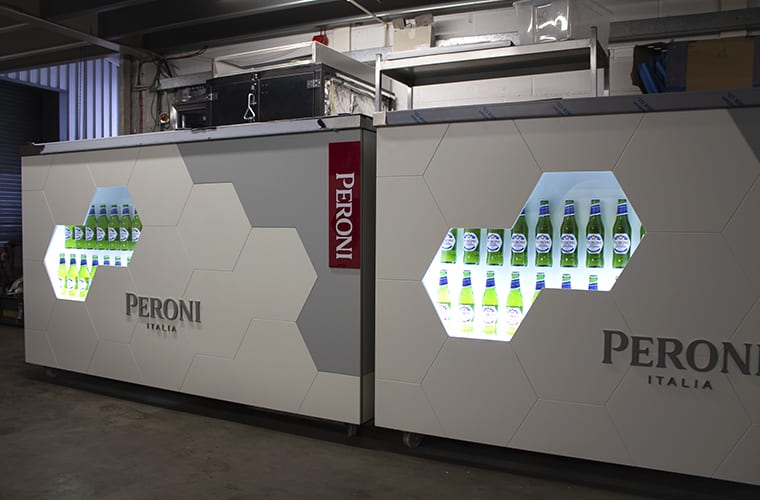 A world of design
One of the most popular designs this year has been the stainless steel wrapped white front with logo and geometric style window view. This sleek and contemporary aesthetic offers plenty of space for branding as well as a display window for bottled drinks to attract thirsty customers towards the bar and showcase what's on offer.
Complete with robust castor wheels, the bar can be transported anywhere it is required (a feature which also makes storage that much easier). This type of bar is invaluable when it comes to reducing waiting times during busy weekends and special events. For units that can be manually lifted, a wheel free version is also available, again ensuring easy storage when the mobile bar is not in use.
With an array of different materials, designs and sizes to choose from, we can make your mobile bar truly your own. Speak to the Dawnvale team today and let us create a mobile bar unit to suit your business and delight your customers this summer.