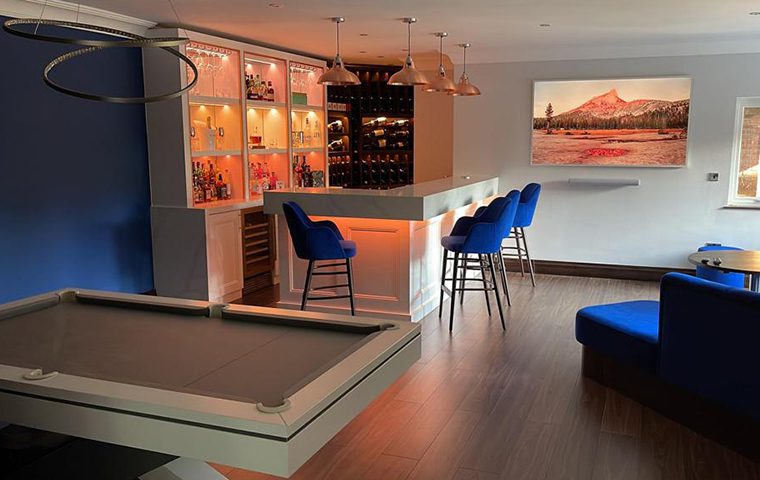 Home bars: An evening out, while staying in
1 YEAR AGO
Over the past few decades, the role of the domestic kitchen has shifted significantly. Once a place to prepare and cook, the kitchen became the 'heart of the home', transitioning into a place for socialising, family bonding, and relaxed evenings in.
Now, the role of the kitchen is once again in the midst of a major evolution. As we become more adventurous, and as our palettes develop, we're a nation that's becoming more serious about our food, and more serious about how we cook.
Kitchens are reverting back to their original purpose. And in their place, a new heart of the home - a new social hub - is beginning to emerge: the beautiful home bar.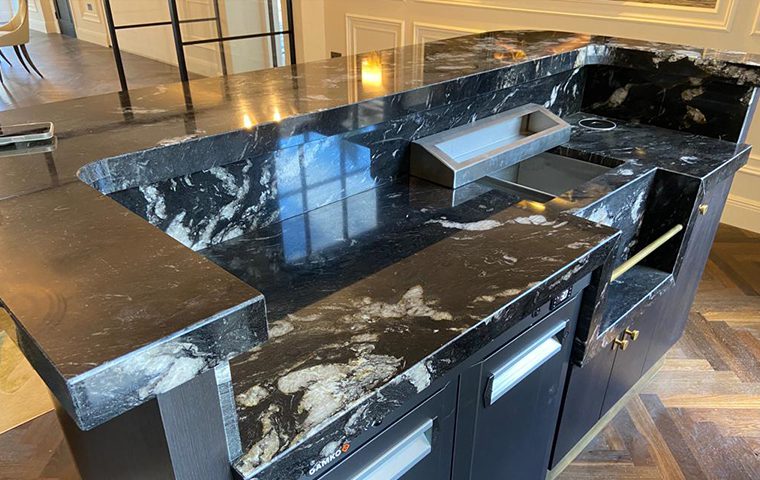 The rise of the home bar
The concept of the home bar is certainly not new. In fact, they've been a major drive of 'home envy' for years. During the global health crisis, however, demand for home bars grew significantly. With people not only living at home but also working from home and playing from home, many of us found we needed an outlet; a place where we could go, relax, and enjoy that chilled out vibe, getting away from it all.
But now that we're returning to the office, and heading back to the pubs, interest in home bars is showing no signs of dying. In fact, this year, research suggests that 1 in every 13 homeowners are planning to transform part of their space into a home bar; that's more than are planning to install a new kitchen!
With a bar stocked with all your favourites, a guaranteed table any day of the week, and no long wait for a taxi at the end of the night, staying in is the new going out. Home bars could even help to add significant value to your home in the future, too.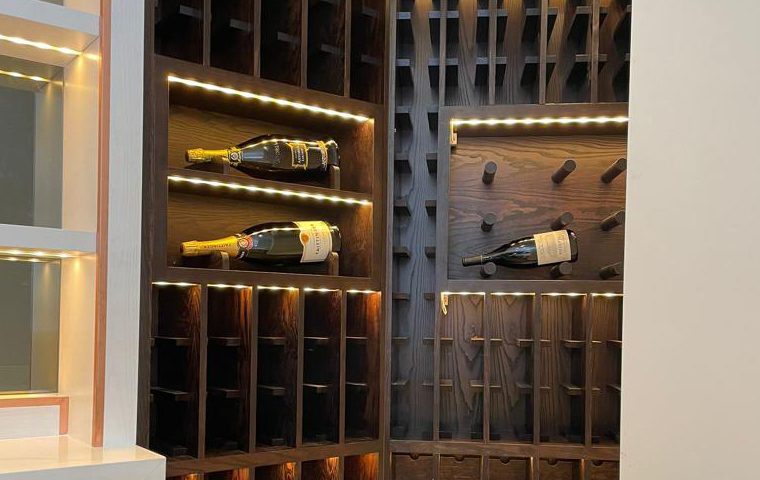 Unlimited choice
As more homeowners embrace the home bar, here at Dawnvale we're seeing our clients approach us with all sorts of innovative designs and stunning styles. And that really is the great thing about the home bar: it can be anything you want it to be.
We're seeing everything from chic cocktail bar designs, adorned with shimmering white marble, to rustic, timber-clad pubs, neon-lit retro bars, and games rooms enhanced with a comfortable social space serving up ice cold refreshments. And whatever it is - a luxury space for unforgettable and glamorous nights in, or a cosy spot for a quiet pint at the end of a long day - we're here to turn dreams into reality.
At Dawnvale, we're working with clients across the country to manage incredible home bar projects, from start to finish. From initial design right through to bespoke joinery and metalwork, lighting and electrics, storage, refrigeration, shelving, service stations, furniture, and more, we can turn your home into your new favourite local.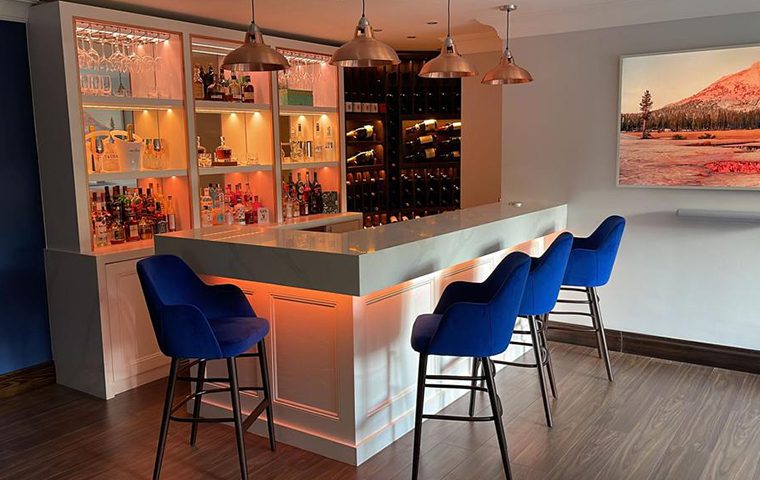 Case study 1: Formby home bar
The Dawnvale team were tasked with creating a beautiful new addition to a stunning Formby home, centred around a clean, crisp-looking wine storage display.
A stained solid timber wine display was built to provide storage for 200+ wine bottles, plus dedicated LED-illuminated spaces built in for a glowing Champagne display.
Around the display, we developed and front and back bar to perfectly complement the clean white timber. The back bar was encased in a white timber surround with inlay sections, each with a smoke grey mirror backing, copper edge trims, and recessed LED strip lighting. The lower section of the bar was designed with convenience in mind, incorporating two cupboards, two bottle coolers, and a set of three drawers, adding handy yet hidden storage solutions to keep the bar top clear.
The front bar was built with a white timber Shaker-style moulding frontage, complete with recessed strip lighting and topped with a 200mm thick infinity countertop. The inner bartender station consists of an insulated ice well and inset speed rail, a bin void and dishwasher section, cupboards and shelving for service convenience.
Our fantastic furniture department at Dawnvale added the finishing touches, working closely with the client to provide bespoke seating solutions and high stools which complimented the bar and room setting and perfectly met client needs.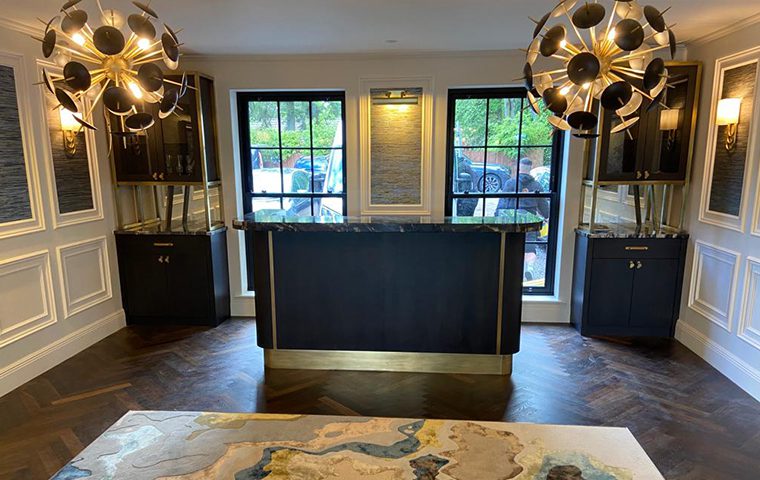 Case study 2: Noctorum home bar
Dawnvale was asked to step in to help transform a truly incredible concept, designed by Kingston Shaw Design, into a luxurious freestanding home bar - complete with display cabinets - in a family dining room at a Noctorum home.
The bar frontage was designed with intricate curved detailing, which was created from timber and brass inlay strips to create the precise look the client wanted. Black granite was selected for the countertop, with the addition of recessed LED strip lighting to provide just a subtle wash of light and warm glow over the frontage.
The inner section of the bar was created with a double door bottle cooler, insulated ice well and inset speed rail, and a cupboard integrated into the lower counter, finished with more black granite to generate harmony across the entire design.
The cabinets were designed to be wall-hanging and were manufactured using the same materials as were used to build the bar itself. One of the cabinets houses a bottle bin, with an inset opening within the granite countertop, while the other offers spacious storage. Both upper displays are illuminated, with adjustable shelves to empower the client to adapt and change the display as needed, or as desired.
If you're ready to begin your home bar project, get in touch with us today.