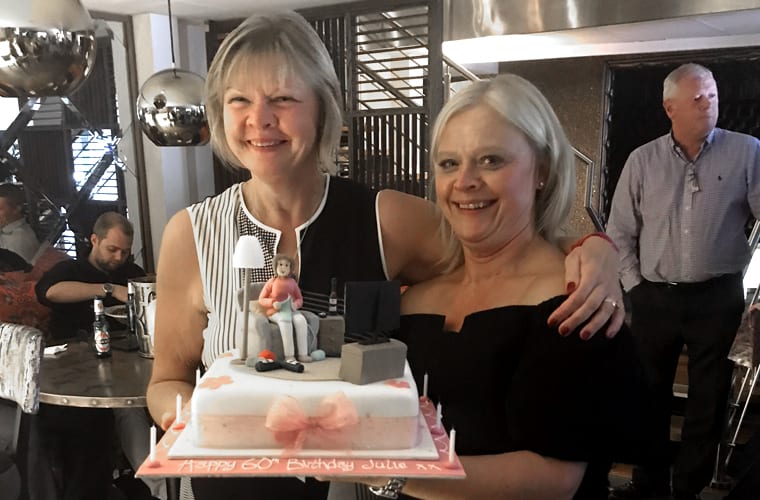 Meet the team: Julie Whitcher
5 YEARS AGO
The Dawnvale team is made up of lots of talented individuals and this month, we're delighted to introduce you to Julie Whitcher.
Julie has been with Dawnvale for 16 years, making her one of our longest serving members of staff. She was our credit controller and is now the Dawnvale receptionist. If you have ever visited our office, the frothy coffee you were welcomed with is a Julie signature! She is the first face that our visitors see and often, the first voice they hear when calling the office or showroom.
We sat down with Julie to chat with her about her role here and to find out what a typical day looks like on reception at Dawnvale…
Q: Hi Julie, you have been with us for 16 years now but what first attracted you to the role here?
I was looking for a position with a local company specifically and the bar / restaurant industry greatly interested me. When I saw the credit controller position it seemed a perfect fit – I've since changed roles and am now front of house at reception.
Q: What's a typical day at Dawnvale like for you?
I would say there is never a typical day! My role is very varied and no two days are ever the same.
Q: What are some of things that we might see you doing each day?
I handle lots of different tasks so one moment you might find me meeting and greeting showroom visitors or handling telephone enquiries but then next I could be taking care of travel and hotel arrangements for staff members working away, organising event days within the showroom space of handling general meetings.
Q: Do you have a schedule that you have to work to?
Not as such although I do have some deadlines for my involvement with the accounts department.
Q: Is there anything you've really loved working on or anything you've thought that's cool, that's different?
Obviously I have been here a while so I have seen lots of projects from the very beginning to the very end. I really enjoy the hospitality side of Dawnvale. I enjoy seeing a new client walk through the door and watch the relationship grow with our sales/install and design team right through to reading the case study and seeing the 'after' pictures at the end of the project.
Q: What are your hobbies?
I love going travelling, eating out and socialising, walking with my dogs, knitting, baking cakes - and eating them of course!
Q: Out of all the Dawnvale projects you've been involved with, which one has been your favourite and why?
My all time most memorable projects were firstly working with Rodney Nutter from Nutters Restaurant in Rochdale and then later on the Bird at Birtle.
Q: We hear it has recently been a special birthday for you?
Yes thank you! I had a very enjoyable time celebrating which was enhanced by a lovely lunchtime soiree held in reception and attended by all my colleagues including a few previous members of staff who retired. I was also very spoilt by the purchase of gift vouchers from everyone at Dawnvale.