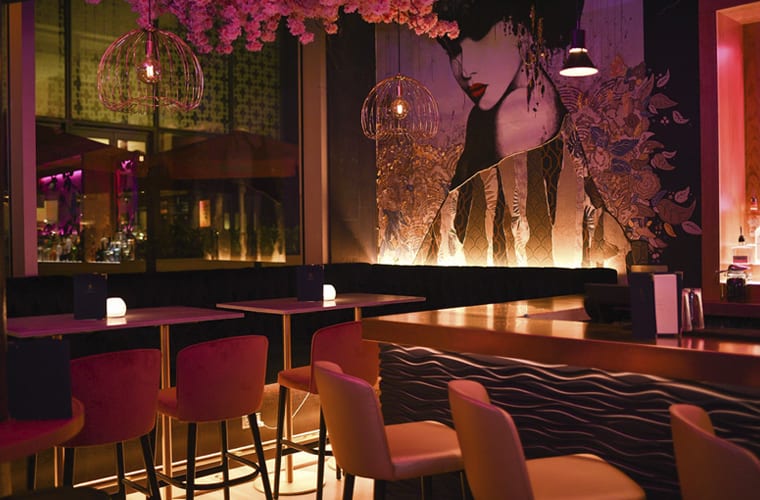 Recapping some of our recent smaller projects
3 YEARS AGO
When you think of Dawnvale, you may well think about our large restaurant and bar refurb projects like bringing a new visual identity to TGI Fridays in Newcastle or our commissions at major sites such as Mackie Mayor. We love working on smaller briefs just as much as we relish the big challenges of designing and installing a commercial kitchen or battling against the clock to get an entire restaurant fitted out in time for the grand reopening.
We love our smaller projects – as the old saying goes, the devil is in the detail and it is sometimes the subtler changes or smaller scale refurbishments that can bring a whole space together. Here are a few of the smaller projects we have been working on recently…
The Lowry Hotel, Salford
The Lowry Hotel in Salford is a beautiful five-star, contemporary property with sweeping city views and a riverside restaurant and bar. We were tasked with modernising the bar in the conference room.
This hideaway bar is a great feature for events which don't require alcohol, but it can also be completed with our mobile bars for draught beers or cocktail service. This flexibility means there are infinite options for using the space to its maximum potential. The refurbishment has seen a bright, modern bar created which is spacious, practical and easily hidden from view.
The chief engineer at the hotel was also delighted with the finished look saying:
"I would just like to take this opportunity to thank you and your team for the effort and quality of work you have committed to throughout the refurbishment project. In terms of work quality and ethic your team have shown whilst working in our hotel, it has been brilliant.
Prep, cleanliness and safe working area and safe systems of work were consistently good throughout.
Communication with myself and our team, again very good.
You maintained a great level of respect to all staff and guests whilst operating in and around the hotel, whilst also respecting the privacy of our VIP guests.
Your team had a great positive attitude and a can do approach to everything, nothing was a challenge and they took on feedback without any hesitation.
I was very pleased with how this project went and how your team delivered, I would be very happy to welcome your team back for any future projects should the opportunity present itself."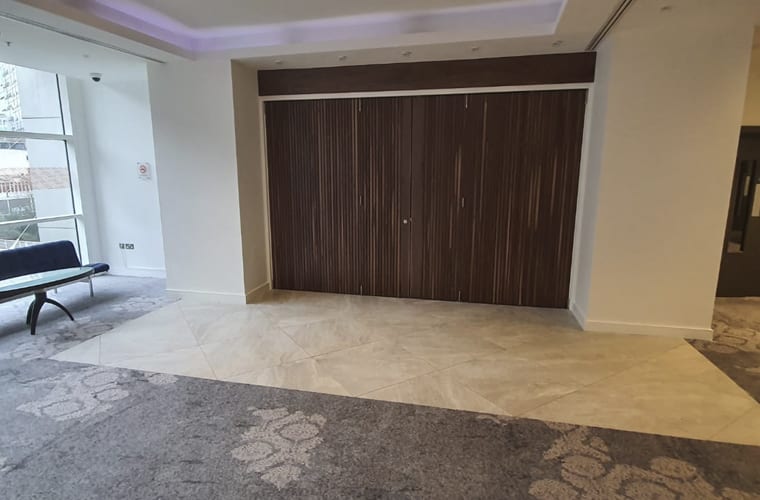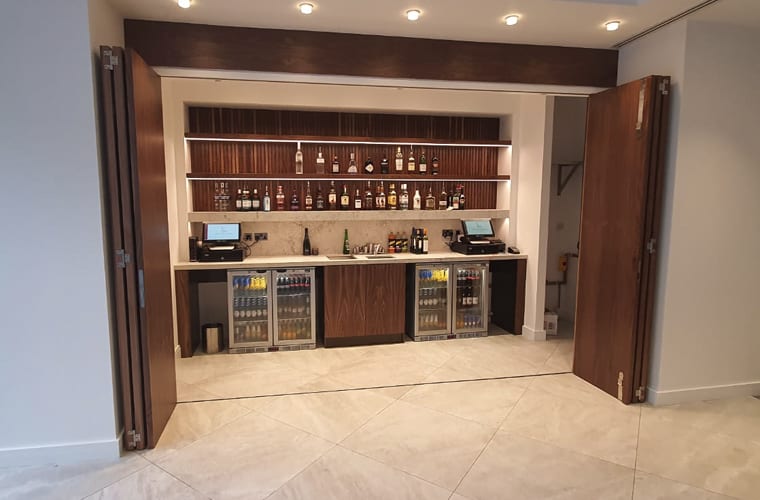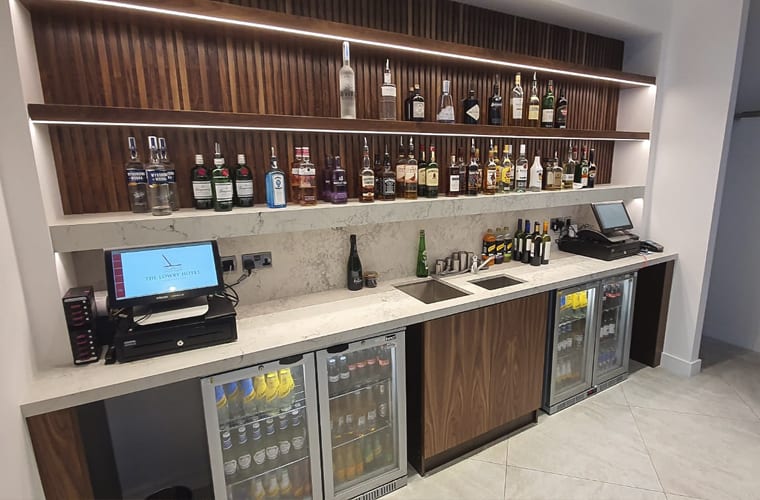 Caldy Golf Club, Wirral
This popular and much-loved golf club situated in the beautiful Wirral approached the Dawnvale team to revamp and modernise their clubhouse while retaining the stylish and sophisticated feel that you'd expect from a high-end establishment.
With dark wood and worn carpets, it was clear that this popular space could be transformed with a few modern touches. The Dawnvale team was only too happy to oblige and we set about creating a fresh new design championing key features.
We installed a new bar with a sleek finish, stylish carpets with complementary curtains and transformed the partition doors, taking them from a dated dark wood to a very contemporary on-trend grey shade. On the interior lighting front, we opted to install spotlights on the existing ceiling panels to create a light and bright venue which would be suitable for a multitude of occasions.
Smart, modern furnishings including our Nina chairs with fabric back completed the overhaul. The Caldy Golf Club hopes its fresh, welcoming and bright new club house will help it to become a popular wedding venue.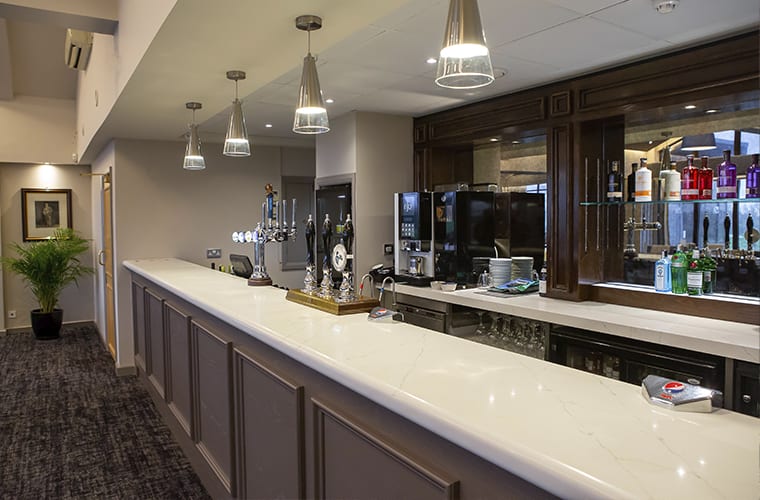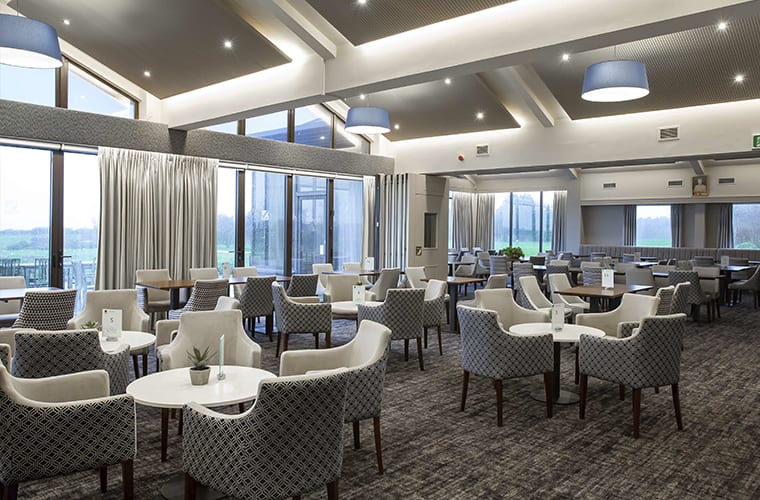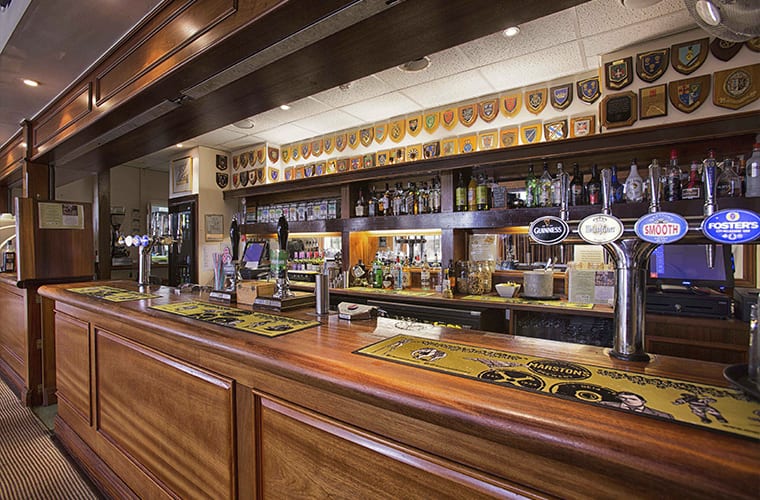 The Prince William, Brixham
The Prince William approached Dawnvale to carry out a total refurbishment to transform a tired bar into a thoroughly modern space.
With our clients looking to create an eclectic feel, the Dawnvale team set to work researching unusual materials and designs that would fit the brief perfectly. We sourced marble tables with brass edging to introduce a touch of real elegance and then combined them with on-trend, metallic fixed seating to bring a modern edge to the venue.
For the bar, a brass effect and natural stone frontage with distressed stainless-steel top was designed and installed. It features unique marble-inspired panels to give a hint of colour. To keep the budget in check, brass powder coated steel was chosen rather than real brass. To add extra visual interest to the bar, a distressed timber panel was used to give a sense of texture and depth. The creation of this especially long and unusually shaped bar area was overseen by our expert fabrications team who polished out any joins within the distressed stainless-steel top to provide a seamless, superior finish.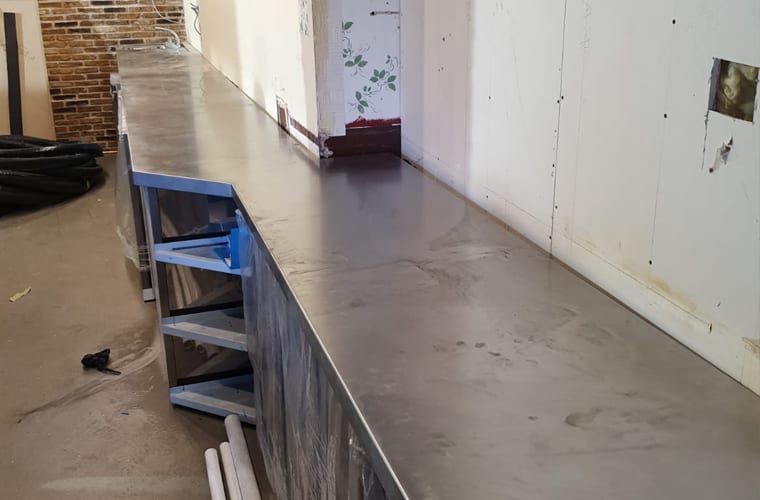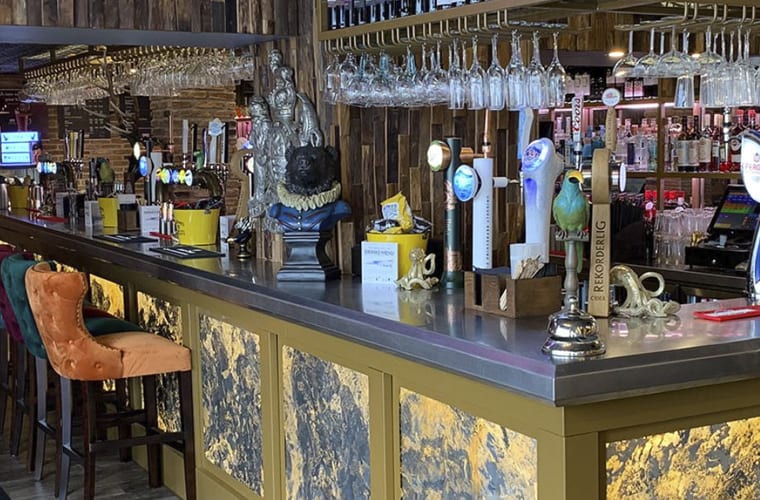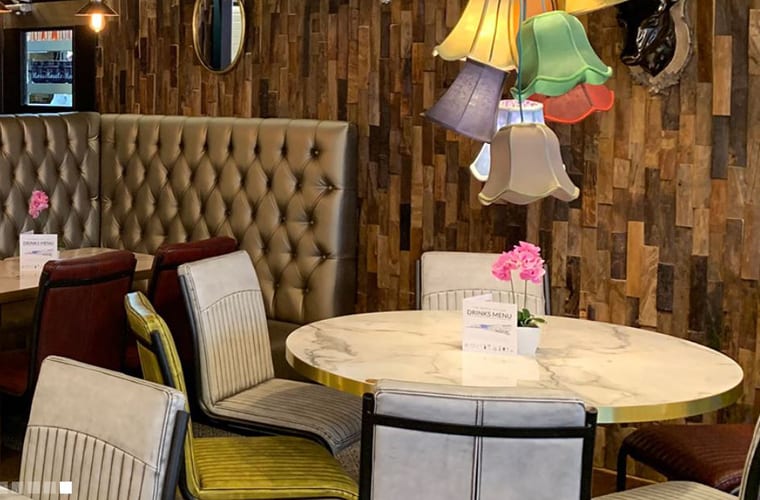 Blossom Room, Milton Keynes
A real treat for the senses, the Blossom Room is situated in a popular entertainment district in Milton Keynes and now takes the pink trend to a whole new level thanks to a recent bar design and fit.
Capturing the essence of the cherry blossom tree, the owners requested a perfectly pink colour scheme for their bar area. By combining a bar featuring soft waves, adding soft pink velvet Louis furniture and (of course) artificial cherry blossom, we were able to achieve a look and feel that combined touch and texture for a truly luxurious visitor experience.
We installed a distressed copper bar top to add metallic highlights and were thrilled to hand over this project in December ready for the busy festive season.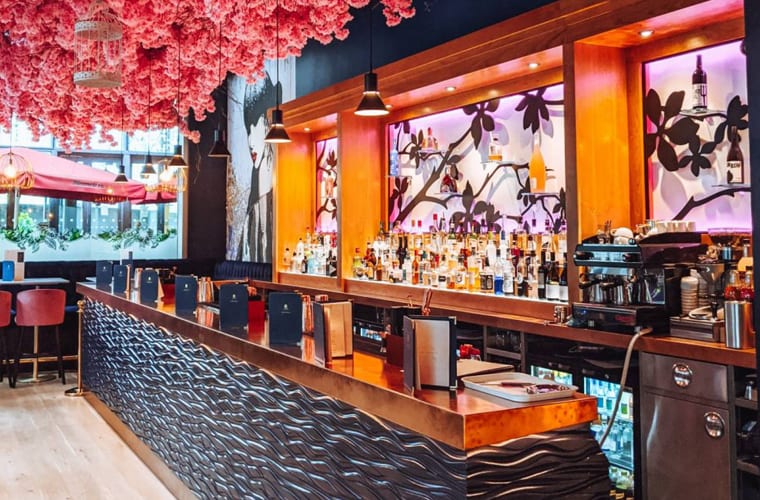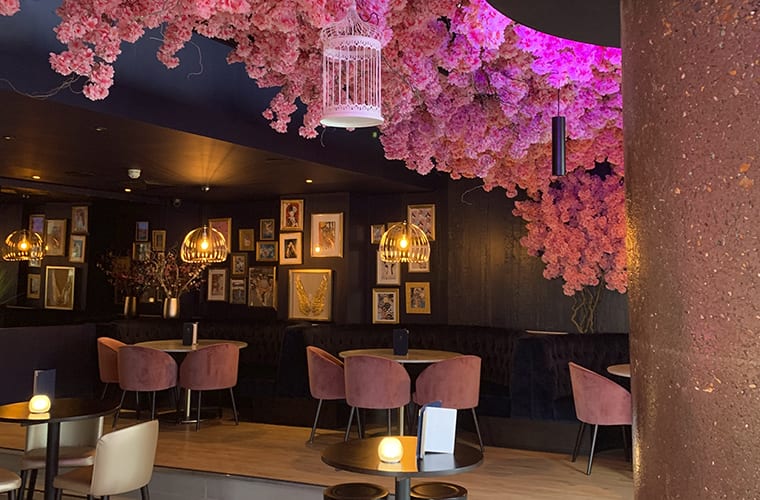 Essendon Country Club, Hatfield
As one of the premier wedding venues in the area, Essendon Country Club wanted to upgrade the bar area of their lower barn premises in order to attract more couples.
Opting for a more modern style that still worked in synergy with the traditional barn area, white moulded timber fronts and pillars were combined with a brushed steel gantry that gives a crisp and contemporary feel, perfectly suited to any bridal celebration.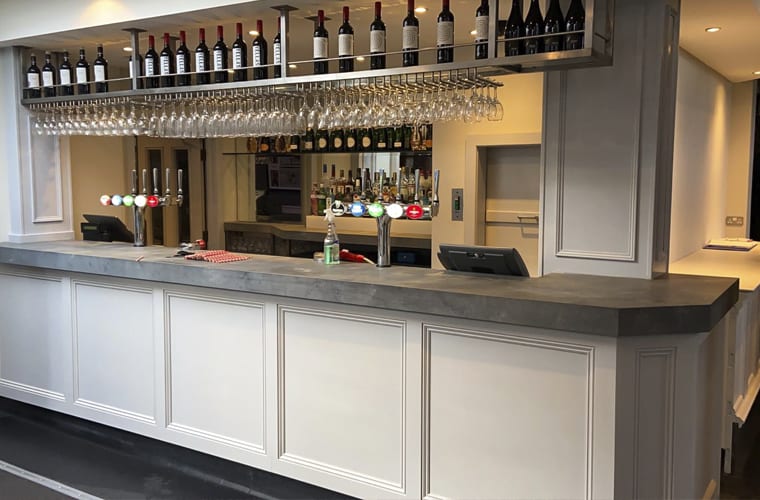 The Hive, Aberaeron
Designing and fitting a unique back bar structure for the Hive restaurant in Aberaeron was a pleasure for the Dawnvale team as we always enjoy a challenge!
With an unusually shaped room, we were tasked with complementing the available dimensions. Our creative solution was to create a geometric styled bar area. This sleek and sophisticated space is fitted out with beautiful honeycomb tiles and makes the most of sharp lines to add visual interest.
The unusually shaped tiles fit perfectly with the the hive theme of the restaurant and to this, we added a distressed stainless-steel bar top and timber panelling. This combination draws the eye and acts as a focal point for the popular hotspot.