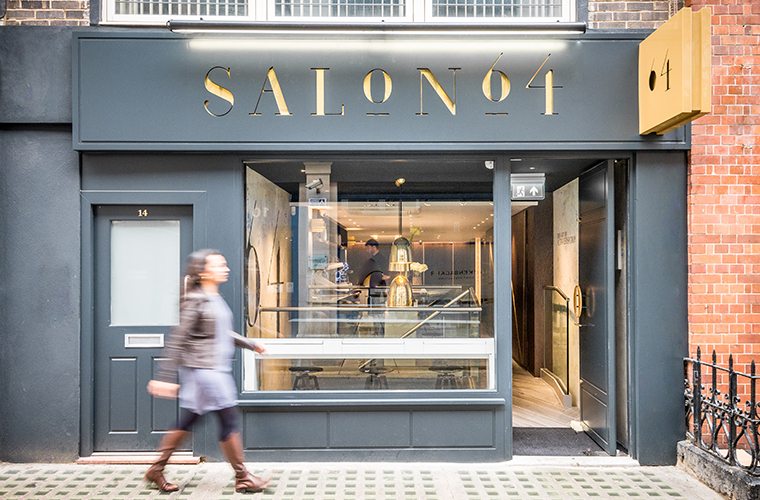 Take a look back on our 2017 in our year's highlights
3 YEARS AGO
The New Year has arrived, resolutions have been made and it's back to work in earnest. Before we charge ahead into 2018, we wanted to take a few minutes to look back over a remarkable 12 months. 2017 presented us with lots of great opportunities, some challenges and a host of rewarding projects. Here's a recap of five of our highlights…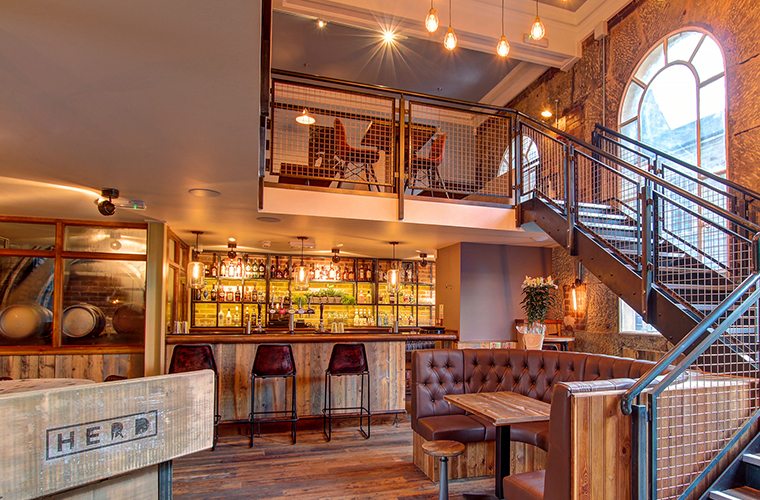 Herd Steak House, Matlock
The Dawnvale team started what would be a busy 2017 of bar and restaurant fit out in the beautiful Peak District at The Herd Matlock. Now a stunning steakhouse sitting across three floors, the property was originally a bank.
We carried out the design, build and full interior fit out, blending traditional and contemporary touches, highlighting the character of the building and weaving in the theme of cattle and steak throughout to create a compelling new dining experience.
We installed three bespoke bars using a range of materials and finishes in each, including a stunning basement bar in the old bank vault (which we first had to remove!) and designed and fitted a bespoke commercial kitchen with an oversize Synergy char grill. There was also custom furniture to design and fit, a mezzanine floor and first floor extension and custom lighting.
Find out more about this project here: http://www.dawnvale.com/projects/herd-steak-house-matlock/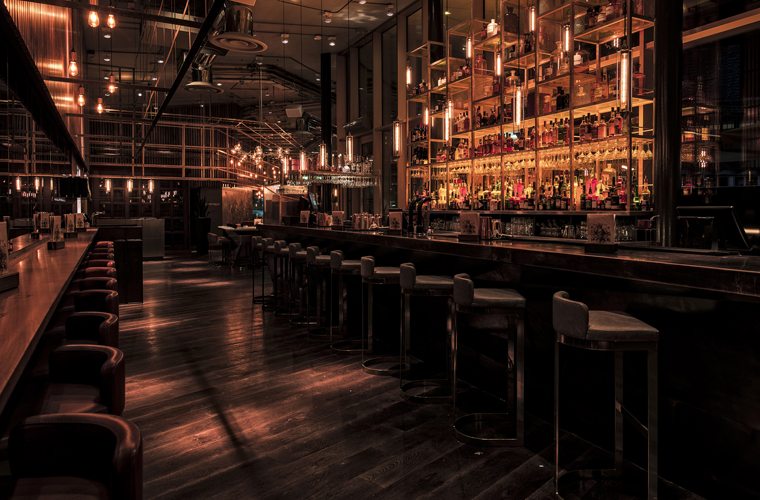 The Alchemist, Media City
Dawnvale had already worked on other bar and restaurant projects with The Alchemist before being commissioned to work on the new Media City location. On this project, we worked closely with The Alchemist brand on bar and kitchen design and fit out. We produced the venue's terrace bar with two stations, main cocktail bar with four stations and designed and installed a bespoke commercial kitchen complete with the latest energy saving Synergy Grills. Each of the bars featured the new Alchemist cocktail stations – a signature part of the Alchemist experience - with drop down blender stations and double speed rails to ensure the drinks keep flowing.
The building's angular walls presented our team with a set of unique challenges with the shape of the space throwing up lots of roadblocks in designing the bars and kitchen. However, the end result is a fully functional bar and kitchen workspace which perfectly meets the client's brief and maximises every inch of the unusual space.
Find out more about this project here: http://www.dawnvale.com/projects/the-alchemist-media-city/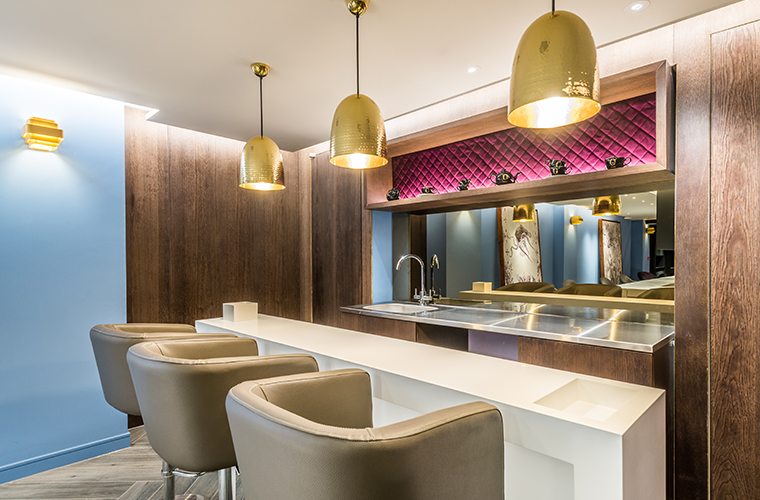 Salon64, Soho
We may be best known for bar and restaurant fit out, but we couldn't wait to get stuck into this project with a difference. Mid-year, we were commissioned to fit out a new salon with a difference in Soho. Salon64 is set over two floors and covers more than 2000 square feet. The design inspires the art of conversation through transformative spaces. An opulent interior features oversized herringbone floors and styled concrete against opulent golden detailing with a modern take on the roman numerals, 64. A regal blue colour scheme running throughout combines with pops of royal raspberry. The design and fit out was an eight week project and during this time we also manufactured the eye-catching, bespoke jewellery boxes and the chic open fire.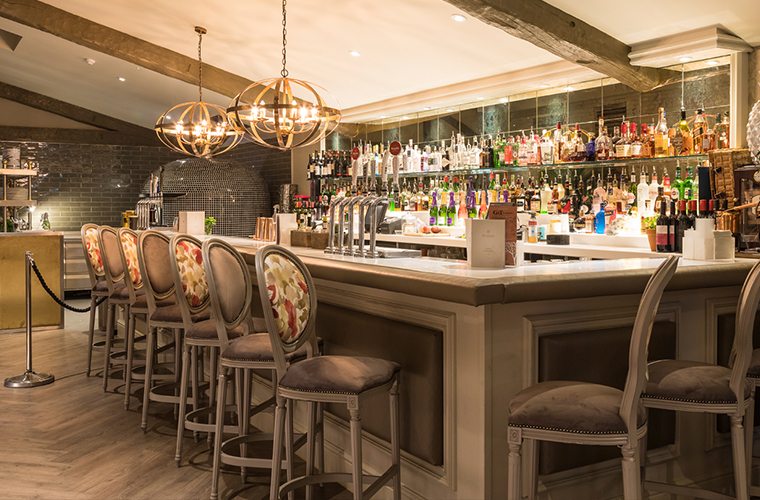 Residence, Nantwich
Ten years after originally fitting out The Residence restaurant in Nantwich for its opening, we were invited back to spearhead a stunning transformation which would see the beautiful venue extending its dining area. The six week project saw us working from a striking design brief created by Paul Danson Imagineering.
The refurbishment saw the exterior courtyard being converted into an elegant new restaurant extension, extensive structural work including raising the floor, new walls and a new roof, redesign of the floor plan plus a brand new bar and kitchen fit out. See the results and more on this project here:
See the results and more on this project here: http://www.dawnvale.com/projects/residence-restaurant-bar-nantwich/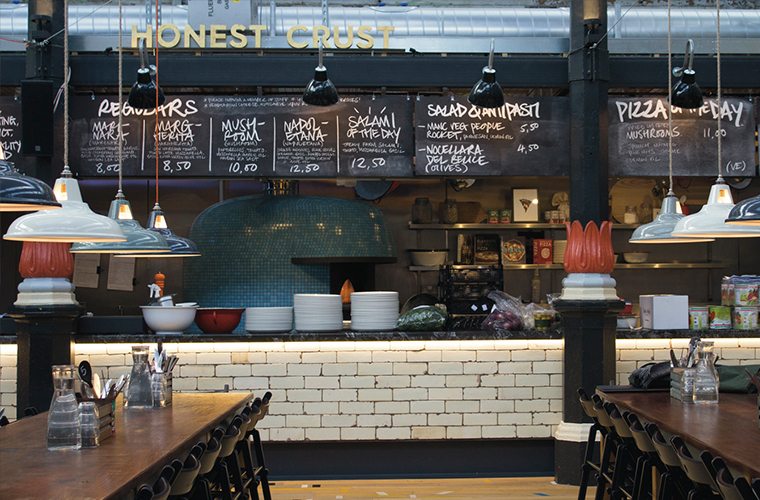 Mackie Mayor, Northern Quarter
We rounded out the year in Manchester with a wonderful project in the city's Northern Quarter. We worked with the team behind Altrincham's award-winning market, to reinvigorate the Grade II listed, glass-roofed Mackie Mayor building, transforming it from an empty former meat market into a vibrant, sophisticated dining destination.
We worked on this project from January for a period of 10 months, completing an extensive fit-out project including kitchen design, bespoke ventilation systems and specialist odour control. Our team installed individual operations kitchens and general areas such as wash and glass wash, cold room and dry goods across multiple food stalls – which now house artisan traders serving delicious food in a simply stunning space. We also supplied and designed full extraction and odour control systems along with bespoke bullnose distressed counter tops.
Find out more about this project and see the finished result here: http://www.dawnvale.com/projects/mackie-mayor-manchester/