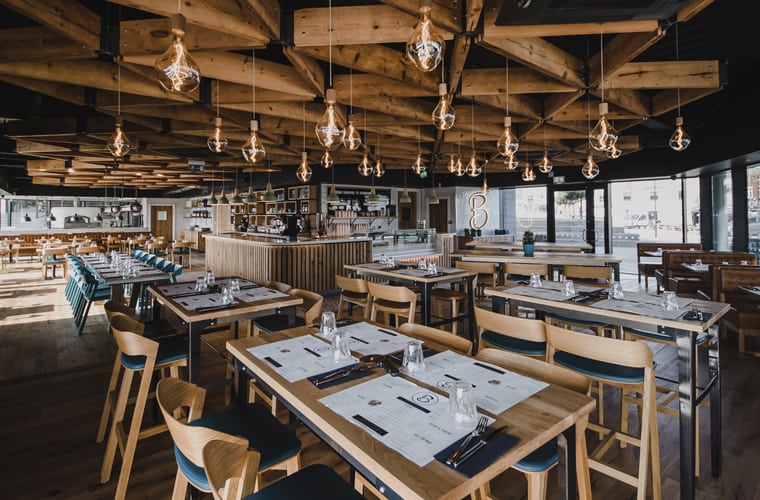 When is the best time to refurbish your bar or restaurant?
3 YEARS AGO
You'll know when the time is right to refurbish your bar or restaurant because your current décor may look tired. Your kitchen equipment may be tired and not as efficient as needed. Your space may not be designed to accommodate demand. You may even decide it's time for a total overhaul to inject a new lease of life into your brand. The problem comes when you're forced to physically block out a time and date for the work to take place. Can you afford to be entirely out of action for a period of several weeks? A refurb while you continue to operate is a tempting thought but, it could actually be a much more costly option in the long run and end up turning customers off rather than wowing them with a fresh new look.
First impressions count
Let's imagine you've closed off half your restaurant to do some painting, while the other half of the restaurant remains operational. Sounds like a win-win? You may be surprised to hear that this isn't always the case. Not every customer will have been to your premises before and having them faced with a non-too eye-catching temporary wall might not be the best way to make your first impression.
It's annoying
If you intend on construction work happening while customers are in your premises, it goes without saying the noise and/or fumes will soon start to annoy your patrons. Do you want the smell of gloss paint while eating your sirloin steak? Probably not, and neither do your customers.
Half-hearted
Having signs that say things like, "Improved area coming soon", makes the customer feel like they must be missing out on the full-service. You might be giving them the same excellent food, but it's easy to create the impression that what you're offering isn't the best of your ability if improvements are pending.
We'll come back later
If it becomes a known fact that your restaurant or bar is undergoing work while still open, potential customers may decide to postpone their visit until the work is over and that could mean no booking at all.
So, what's the alternative? A small period of closure and a full refurbishment. This may seem like the scariest and most costly path but you can actually make this a real draw for customers if you plan it right.
Planning and preparation
Poorly planned renovations are risky and will most definitely have a negative impact on your business. Think about things like seasonality; when is your venue typically quietest? This is when you should aim to do your refurb; there's little point in refurbishing during your peak season. Take a look at your sales curve and figure out when you encounter "down-times", that's when your refurbishment should take place.
To avoid unwelcome delays (because time is money) have realistic budgets and ensure you have the finances to sustain the refurbishment. Remember, plans and designs can all be completed and approved before you close your premises.
Think of your customers
Think of your clientele and the regular customers to your bar/restaurant. What is it they like about coming to your place? You need to think about these things before undergoing a refurbishment because this gives you insight into whether you want to just redecorate or completely change the vibe of your bar/restaurant. For example, if your place predominantly caters for families with young kids, don't reinvent your premises to be a hipster bar with a pricey menu. You can do great refurbishments without displeasing your regulars.
Stay true
Stay true to yourself and the brand - you'll stand out more if you remain authentic. It's sometimes easy to get caught up in what the competition is doing, but you should focus on what your own unique selling point will be. This also gives you chance to try out features you've always wanted, like outdoor seating or a BBQ area, which could complement your core offering while also creating a buzz.