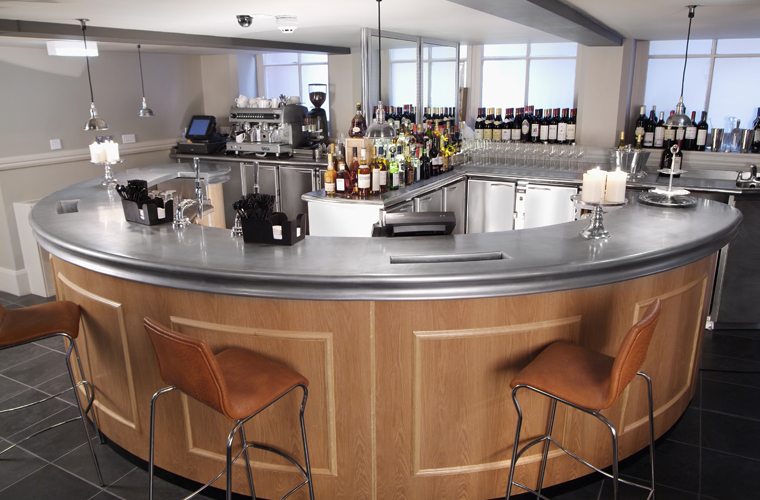 The maintenance of zinc
2 YEARS AGO
Zinc is one of the most commonly used and sought-after metals for commercial kitchen countertops. Part of the reasoning behind zinc's popularity is its looks; zinc has a distinctive bluish-grey colour that looks right at home in professional kitchens, and as such is the countertop material of choice for many high-end restaurants. In addition to this, zinc has antiseptic properties which kill bacteria on contact, making it a sensible option for any kitchen owner looking to guarantee the cleanliness of their eatery.
Having said this, realising the benefits of zinc also comes with the added duty of regular maintenance to ensure that your countertop remains in top condition. What type of maintenance you perform depends on the type of zinc your establishment has, which is why we've created this helpful guide to keep your commercial kitchen sparkling and your chefs proud of their working environment.
Matte zinc finish
Matte zinc countertops may pick up light scratches and mineral streaking in your busy kitchen environment, but these can be easily brushed out with a brite-pad. Deeper scratches can be removed using sandpaper in grades ranging from 150 to 220, and white marks or rings can be easily remedied with a light scrub using diluted vinegar. Just remember to rinse with water after cleaning!
Mirror-polished zinc
Mirror-polished zinc looks amazing, but requires an entirely different treatment regime to matte zinc. When cleaning your countertop on a day-to-day basis you should use a standard metal polish, whereas an automotive compound with a machine polishing pad can be used to renew the brilliant finish of your countertop if it loses its shine over time.
Patina-finish zinc
If you've opted for a countertop made of patina-finish zinc, then you need to be extra careful when cleaning it. The patina layer covering the metal is extremely thin, and can be easily removed with a hard brush or wire wool. Use simple soap and water to clean your countertop on a daily basis, and aim to use chopping boards and trivets to minimize the impact of cutlery and crockery on your surface. You should also wipe any spillages or liquids as quickly as possible to prevent unattractive discolouration and glass rings.
The patina on your zinc coating will develop over time. Acidic liquids that may be common in your kitchen, such as lemon juice, will remove the coating, and the overall look of your countertop will take around a year to develop as it changes with the wear and tear of your kitchen.