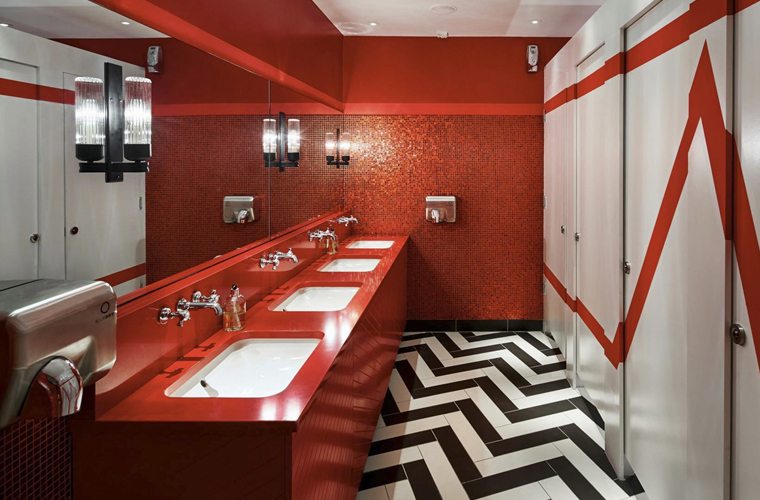 The importance of having a great bathroom in your bar or restaurant
5 YEARS AGO
When designing your ideal venue, there are some areas which are often overlooked, and one of these is the much-maligned restaurant bathroom. Yet for your guests and patrons, this room is pretty important, and one which will work as either a space for helping to truly sell your design aesthetic, or which will let your design plans down disastrously. Here are a few reasons you should never neglect your bathroom design, and how to ensure you get it right…
What does your bathroom say about your venue?
Running a successful restaurant or bar is all about the details. Bathrooms are generally considered to be private spaces, but in a public restaurant or bar, they are also a public space where you can truly let all these little details shine! It's worth investing a little in a great bathroom design to ensure it works cohesively with the rest of your design elements. Customers increasingly want more than just cleanliness when they visit your bathrooms; they want a little bit of design inspiration, too.
Most people don't consider a bathroom to be a haven for style and sophistication – but they do notice when there's something missing. This gives you plenty of creative licence to apply the same level of dedication to your bathroom design as you have to any other area of the venue, ensuring both style and function meet with great results which get you noticed for all the right reasons.
Continue your theme
The bathroom is a space where you can continue your brand's existing aesthetic or let your imagination run wild. Whatever you do, once you decide, commit to it! Either way, it merits a little thought – and maintaining consistent design from the restaurant or bar itself to your bathrooms won't go unnoticed by patrons and could win you plenty of new fans. There's no need to splash the cash to excess – but creativity is key to succeeding with this part of your design project.
Maximise space
Depending on the size and scale of your bathroom, you may only have limited space to play with, but that doesn't mean you can't make the very most of it. Maximising your space can be achieved through clever design, ensuring your patrons have everything they need. If you're a luxury venue, add towels and scented soaps. If you're mid-range, consider how to add luxury on a budget. Little touches like great taps or a statement mirror work exceptionally well in creating a welcoming space which also fulfils all the functions of a high-performance bathroom.
Show you understand your guests
A great bathroom can show exactly how much you know your customers. What sort of design elements do they enjoy? Are they the sort of people who want to hear music in the bathrooms? How about scent?  What kind of lighting will they enjoy? Answers to all these questions should help guide your design choices – and bring more valuable personality to the design choices you make.